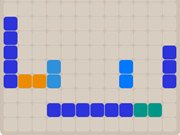 1212
---
Description :
Your task in this addictive puzzle game is to drag the block to the vertical and horizontal lines of the grid to make the complete line disappeared. Think and plan your move before you do it: the more lines are cleared at a time, the more score you will get. If you put a piece of flash to the existing pieces, they will disappear too. How many points can you get?
Keywords :
Relaxation, Puzzle, Matching, Match 3, Kids, HTML5, Boy, Block, Android
Control :
play with your mouse.
Author :
famobi.com
---
Comments
Please login or register to post a comment